Toshiba Canvio Ready 1TB
Save data easily and very quickly

The Canvio Ready hard drive from Toshiba transfers files at up to 5 Gbit/s thanks to USB 3.0. The compact, portable device provides up to 1 GB of storage capacity, which you can fill quickly and safely using plug-and-play technology. The ramp load technology protects against damage caused by vibration, whilst the shock sensor cuts the power supply in the event of excessive physical impacts, protecting your data. This makes the Canvio Ready the ideal, secure companion for on the move.


Ready to Store. Simple to Use.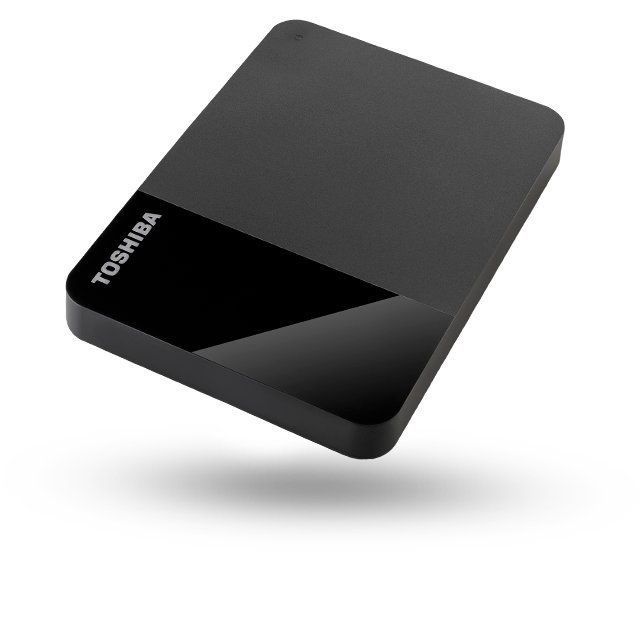 EMEA Region, Toshiba Storage Solutions – Toshiba's Canvio Ready external hard drive uses USB 3.2 Gen 1 technology for transfer speeds of up to 5 Gbit/s – and with plug-and-play technology, you're able to quickly save and secure up to 4 TB of media to a compact, portable device. The Canvio Ready includes ramp load design that prevents damage to the disk while mobile, and a shock sensor that will cut the power to protect data in the event of physical stress – so you can rest assured that your files are safe.
USB-powered
HIGH TRANSFER SPEEDS
The Canvio Ready's incredibly fast and backwards-compatible USB 3.2 Gen 1 technology means that you're able to save and secure documents, photos, movies, and more at speeds of up to 5 Gbit/s.
READY TO PLUG AND PLAY
There's no setup or waiting with the Canvio Ready – just plug the device in to quickly access and organise your files, before unplugging and going mobile. The Canvio Ready is the ideal companion for busy users who need quick and easy storage.